Apple picking and DONUTS!
Aaaaahhh it's that magical time of year. A time of year when mother nature puts on her most splendid display of colors, tickles our senses with different smells and sounds, and allows even adults to travel back to their childhood memories. Its FALL!!! This is my most favorite time of year. I just love the crisp air, the beautiful displays of colors on each branch, pumpkin spiced lattes, apples pies, just everything about this time of year. Halloween is probably my favorite holiday as well. So I really get excited when Fall arrives. Every year I have a checklist that I like to complete before winter decides to stop in for 5 months and give us all cabin fever. One of those items on the list is a trip to County Line Orchard in Hobart, Indiana. The kids love this place because of all the fun activities for them. My husband and I indulge them this trip mainly because of the DONUTS that they bake up fresh around the clock. Pumpkin and Apple donuts. Seriously the best donuts I have ever tasted. We usually make that our first stop before we get started with the rest of the activities they have to offer.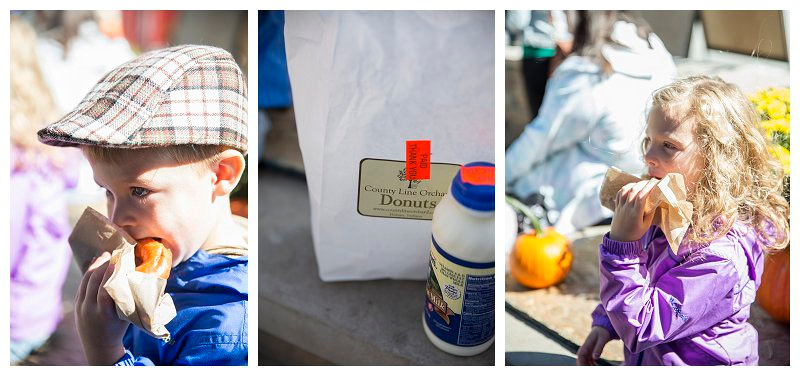 Seriously some awesome donuts!
After donuts we hit the petting zoo. You can buy a bag of feed and let the different animals eat right from your hands. I typically let my husband be in charge of this because I am grossed out by these animals licking my hands. The kids love it!
Next up is the corn maze! This year they did two corn mazes with the Black Hawks. Abby loves these type of cut out displays. Always a good laugh. This years corn maze was a good one. Took us a while to get through it.
Of course we had to hit the moo-choo train while we were there. This was Alex's first time riding solo and he did great but did look a little scared when they got back......
The last part of our trip was apple picking. You can take a tractor ride out to the orchard and they drop you off and you start picking. The kids had a hard time not picking every single apple they could reach. I had to remind them to slow down because we didn't need 50 lbs of apples.
Big fan of the apple picking!
You see that shadow at the bottom of this photo? Yep that's the only proof that I was on this adventure with them. I seriously need to teach Steve to use my camera.
I can't recommend it enough to take a trip to County Line orchard if you can! It is a great way to spend a Saturday. Plenty of exercise, fresh air, apples and DONUTS!